Music Videos News | New Life Worship releases their long-awaited album 'Over It All'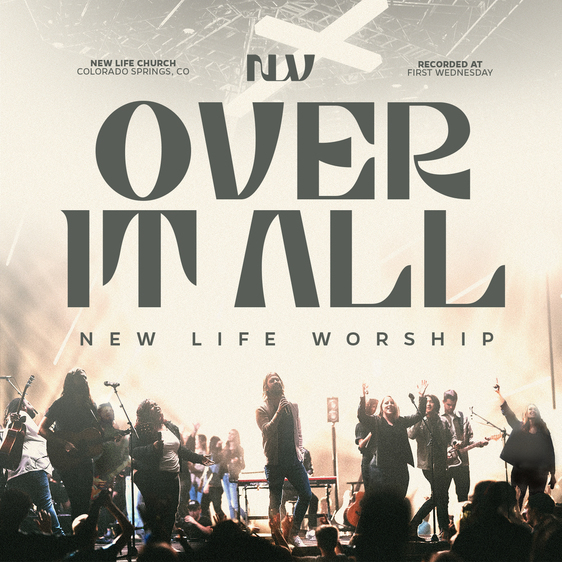 Nashville, TN / Colorado Springs, CO – Today New Life Worship releases their long-awaited live album, above it all. After twenty years of worship ministry and seven years since their last project, the Colorado Springs-based New Life Church worship team is back with music that exudes energy, joy, and surrender to the Lord.
Worship is at the heart of New Life Church. Of the eleven songs found on above it all, each is the bearer of a new hope and a holy challenge, born directly from the heart of his community. The recording invites the listener to join in the unshakeable Kingdom of God where each voice brings its song of praise, declaring truth, hope and light in the face of our cultural moment.
Cult leader Jon Egan notes, "The cult is revelation-based response and belief-based choice. This resonates from the jubilant album opener "There is a savior" to more meditative titles such as "Gloria Patri".
It is the hope of the new life cult that above it all would sound like their church. Egan explains, "If it sounds loud, it's because we explode to describe the holiness of God. If it is aggressive, it is because we are interceding with all that we are. If it's sweet, it's because there's nothing like his presence.
The new music video for 'There Is A Saviour' was just uploaded today – click HERE to check it. To listen to the new album, click on HEREand be sure to follow New Life Worship on instagram.
ABOUT NEW LIFE WORSHIP: New Life Worship is a collective of worship leaders and musicians who serve at New Life Church in Colorado Springs, Colorado. With a rich history serving the church with songs like "Strong God", "Great I Am", "I Am Free" and "Here In Your Presence", New Life Worship enters a new season of new songs in being born In the church.
The group exists to nurture a Bible-true, historically-rooted, musically adept and prophetically dynamic multi-generational worship culture. They focus on encountering the living God – both in the "here and now" and in trusting what is to come. Their voice is communal, formed with the belief that their collective efforts pay off more than just the sum of their individual contributions, working to shape their songs to bring training to the soul with a message that is wrapped in beauty and creativity. They seek to make their voice old and new – old in honoring and referencing the rich history of the Church and those who have gone before us, and new in knowing that in the Hebrew texts of the Psalms, God desires new songs emanate from his people. To stay up to date, follow New Life Worship here.
ABOUT INTEGRITY MUSIC: Integrity Music is part of the David C. Cook family, a global nonprofit resource provider serving the Church with life-transforming materials. With offices in the US and UK, in Nashville, Tennessee and Brighton, East Sussex, Integrity Music is committed to bringing background songs to the local church and its leaders around the world.
Integrity releases many of the best Church songs, including "Great Are You Lord", "Revelation Song", "Open The Eyes Of My Heart", "In Christ Alone", "10,000 Reasons", "Here I Am To Worship". ", "The Lion and the Lamb", "Great I Am" and "We Believe", among others. Integrity Music artists include Matt Redman, Lincoln Brewster, Darlene Zschech, Leeland, William McDowell, Paul Baloche, David and Nicole Binion, Sandra McCracken, Nashville Life Music, Selah, Thrive Worship, Local Sound, Sarah Kroger, Kees Kraeynoord, ICF Church, Matt Marvane, InSalvation, Phil Thompson, Village Lights, Tim Timmons, Mission House, among others. Additional information is available at integritymusic.com.